Work has changed significantly in recent years, particularly in today's fast-paced business environment, where workplace efficiency, productivity, and connectivity are all important.
There is no doubt that business efficiency is critical. When businesses and employees can work seamlessly, any firm is more effective and competitive in their industry. Using productivity tools enables people to complete their jobs easily and from anywhere, whether on mobile devices or at a central location, creating firms that are agile and able to expand their business successfully. 
Microsoft 365 provides an economical productivity cloud platform that consolidates all the tools you need into one place. By future-proofing your business while boosting efficiency, it will help you to save money on an enterprise-level platform. 
What is Microsoft 365?
Many organisations are already acquainted with Office 365, the collection of productivity programs including Outlook, Word, Excel, and PowerPoint, among others. In 2017, Microsoft released Microsoft 365, a unified collection of existing platforms including Office 365, in addition to other solutions like Windows 10 Enterprise, Enterprise Mobility + Security (EMS), and other solutions. 
There are several options to pick from depending on your company's requirements. Microsoft 365's greatest strength for your enterprise is the multi-functional platform, which increases productivity, collaboration, and security as and when your enterprise requires it. 
Enhanced productivity 
Today, remote working and hybrid workforce are becoming the norm for organisations. With Microsoft 365, organisations can support their employees in a hybrid workforce environment. Microsoft 365 is accessible from any device with an internet connection, including Android and iOS operating systems, allowing employees to access their data from anywhere at any time. 
Microsoft Teams provides dedicated task management and collaboration tools to keep employees connected and working on projects in real-time. Streamlined communication, real-time collaboration, and an organised repository for team documents will help your team stay on top of things and finish projects faster. Managers and employees may organise meetings and assign high-priority tasks to ensure that deadlines are not missed.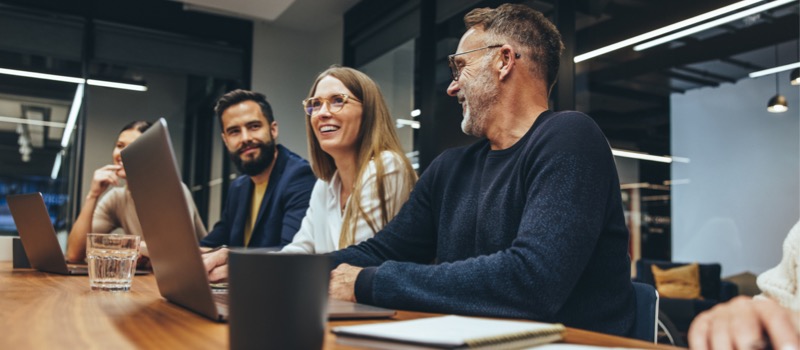 Increased agility and scalability 
You don't need to make any capital investments on new hardware or servers with Microsoft 365, because it can scale as your company grows. Microsoft 365's subscription model can be tailored to each department's needs, allowing for more users and services as required. 
This means you won't have to worry about upgrading to the newest version of Office or upgrading your hardware. With Microsoft 365, your company can focus on growing its business, not upgrading its software. The cloud-based nature of Microsoft 365 also means that you won't have to worry about losing access to your data if your office loses power. With Microsoft 365, your data will always be backed up and protected.
Microsoft 365's mix-and-match approach to business applications lets you create a custom solution for your company, paying only for additional licences when necessary through the simple software interface. 
Secure and compliant
It's crucial to consider security and compliance when choosing software or cloud solutions to store or access data. Microsoft 365 offers built-in protection features such as data encryption at rest and in transit, in addition to multi-factor authentication requirements to access data and documents. 
Security admins can track which devices are being used, manage security for remote teams, receive alerts when something suspicious is detected, and gain an understanding of your organisation's current security status with the Microsoft 365 security centre. 
Data backups are stored in multiple data centres, increasing their availability in case of data loss or disaster. Every subscription has a certain number of days in which lost data can be recovered, which varies depending on the service. 
Cost-effective
With Microsoft 365, businesses can pay for it on a per-user, monthly subscription basis. Thus, organisations do not have to make a large upfront purchase but rather only cover a predictable monthly subscription fee. 
Microsoft 365's 'pay-as-you-go' policy ensures that if one department or team does not require a service, such as Power BI, you may create a package that does not include it. You only pay for the software and tools you need. You can also rest assured that your organisation is always using the newest version of applications, with automatic upgrades occurring behind the scenes and costing nothing or interfering with business activities. 
Microsoft 365 empowers you to take your enterprise further
Microsoft 365 is a comprehensive suite of services and applications that delivers the comprehensive technology experience organisations need. There are a lot of advantages to using Microsoft 365 technology in your enterprise. To learn more about how Microsoft 365 can benefit your company, contact the Microsoft experts at INTELLIWORX today.