Microsoft Teams has grown into one of the most popular collaboration and productivity tools for organisations of all sizes over the last four years. While companies continued to flock to collaboration services such as Microsoft Teams, Slack, and Zoom during the COVID-19 outbreak, Microsoft Teams remains one of the most popular all-in-one solutions, with 145 million daily active users. 
As remote and hybrid work models continue to gain popularity with businesses worldwide, it is clear that collaboration software is a necessary tool to have, and Teams provides your organisation with all the right tools in an all-in-one solution. Let's take a look at how Teams can take business collaboration from good to fantastic. 
What is Microsoft Teams?
Part of the cloud-based Microsoft 365 productivity suite, Teams serves as a collaboration hub that allows employees to work efficiently anywhere, on any device. The collaboration features facilitate rapid and user-friendly communication and collaboration, allowing teams to share ideas, manage projects, and more. 
Microsoft Teams provides employees with online collaboration tools to support seamless and efficient workflows from remote locations, on multiple devices, and without the risk of information silos or missed communications. In order to communicate and collaborate effectively at work, your employees want simplicity, flexibility, and effectiveness. 
Real-time collaboration
One of the drawbacks for organisations when considering remote and hybrid work environments is how teams and employees will stay on top of projects that require collaboration. Teams facilitate this through real-time collaboration via instant messaging and video calling, as well as being able to create groups dedicated to specific teams or projects. 
You can share Word, Excel, or PowerPoint documents with your team, and make changes to them on your phone as you work. This way, you'll be able to maintain document quality as well as comment on the project's development. Using Microsoft Teams' threaded conversations, you can also collaborate on a document, allowing the entire team to see the whole discussion related to the document. Collaboration and work-life integration are supported by Teams, with a simple, intuitive interface that enables real-time communication, video conferencing, and sharing of content across all user devices. 
SharePoint and OneDrive integration
Microsoft Teams allows you to share files with your colleagues using SharePoint or OneDrive for Business on your network. To enable this feature, you simply create a Teams site in SharePoint and share it with your users, who can view and browse files from the site browser. Using this integration, you can upload files from OneDrive or SharePoint to Microsoft Teams and then share them with your employees. You can also create new files by uploading them directly to Microsoft Teams. It's easy to find the file you want when you need it by typing it in the Microsoft Teams search box.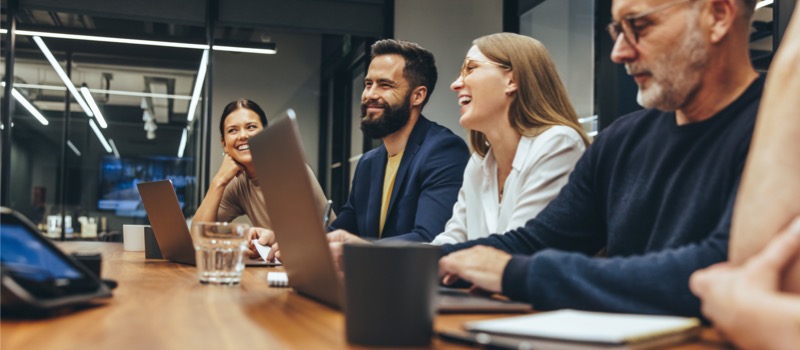 Security and privacy in the cloud
Microsoft takes security seriously, which means your employees can go about their daily business confident the data they are accessing and sharing is secure. 
All data transmitted and stored with Microsoft Teams is automatically encrypted with end-to-end encryption to ensure your data is safe. Privacy settings allow you to control how your team members view private content, manage permissions, and control what data is shared. You can also set a company policy for how your team members share information with each other.
Take collaboration next level
Microsoft Teams takes business collaboration to the next level, including all the vital tools for group communication, in addition to integrations with Microsoft 365, OneDrive, and SharePoint, so team members can collaborate on files, share video conferences, and message one another all from the same platform. 
These features enable employees to seamlessly communicate in real-time, so conversations can take place instantly, as though colleagues are in the same space. Instant translation allows communication between different languages. The high-quality video conferencing tools enable corporate meetings to casual hangouts with colleagues. 
The remote access features allows teams to work together as easily as if they were situated in one space, rather than at different locations. All that is needed is a web browser to access all the tools needed. Employees can talk, text, or chat as they work, keeping both communication and productivity flowing. 
Talk to the INTELLIWORX Microsoft Teams consultants today about how they can help you take Microsoft Teams collaboration to the next level – educating your employees on its applications, implementing it in your business, and optimising privacy and security features.