As today's business world becomes increasingly reliant on digital technology and the internet, data security and protection are becoming even more important. If data are not sufficiently protected within a network, there is a higher likelihood of data corruption or data theft.
The average cost of a data breach in Australia is around AU$3.35 million, which is significantly lower than the global average but has the potential to be severely detrimental to businesses. 
In order to keep your data secure and to minimise the risk of data loss, proper data protection security measures should be taken. 
What is data security?
There are many different types of digital assets such as databases, files, accounts, and other information that are critical or sensitive to operations. To ensure data security and minimise risk, controls must be assessed and implemented. Every office or workspace has various systems and devices storing and transmitting a variety of business information, which becomes valuable in the wrong hands. 
Data security is about ensuring the protection of the data that your business stores, transmits, and uses in its day-to-day operations. Different data security strategies will apply depending on the type of sensitive information your business uses. 
Why is data security important?
A poor approach to data protection can lead to data loss or exposure, which may have adverse consequences for your business. Threat actors can attempt to extort large amounts of money, or an unintentional error by an employee could lead to data breaches. Insider threats from disgruntled employees or contractors can also lead to unauthorised access to systems or networks which can lead to serious consequences. Business reputation can be damaged as a result of the data leak or loss itself, or because of the poor public opinion generated by security mishaps. It may have repercussions legally as well, as personal data leaks or intellectual property being stolen can breach data protection regulations. 
Strategies and technologies for data security
The following five data protection strategies and technologies are the most effective and should be adopted to ensure that your business data remains secure and well maintained. 
Security awareness
Employees are an essential part of your business but unfortunately, they are also likely to cause an information security incident, whether through unintentional actions or a lack of action. A study by IBM found that in 95% of cyber incidents, human error was a major contribution, whether it is failing to use strong passwords or clicking a link that leads to malware infecting a device and the network. 
Since human error plays such a vast role in cyber breaches, addressing it with security awareness training is key to reducing your business's chances of being targeted by cybercriminals. An effective training and awareness program can reduce security risks by preventing employees from being victims of social engineering, using office or BYO devices responsibly, and properly managing and sharing enterprise data. Security awareness builds a security-first culture within your business, which can be more protective against a wider range of threats than a single security solution can.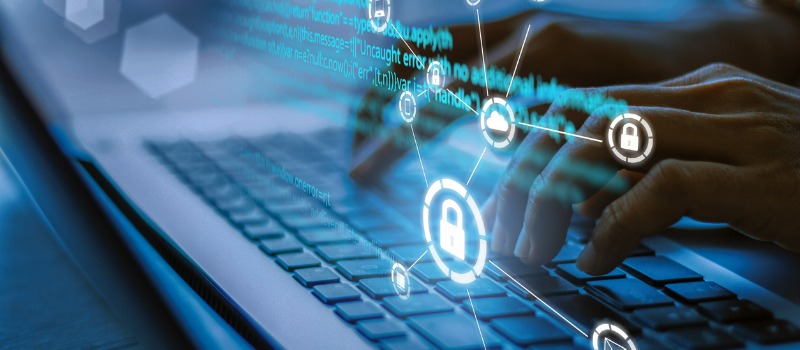 Data encryption
Data encryption protects and disguises data using complex algorithms. The degree of encryption may range from hiding login passwords, work files, and emails to protecting entire networks. Without encryption, any data spill or users who have unauthorised access could easily see and disclose data content. Even if your data is lost or compromised, encryption safeguards your information. 
Encryption is especially important for businesses, government agencies, and enterprises that handle sensitive data or have data compliance requirements. There are many types of data encryption, including email encryption, corporate network security, data at rest, data in transit, and ransomware protection.
Managed detection and response
An enterprise can be protected from cyber-attacks by using a proactive and reactive approach such as managed detection and response (MDR), which combines technology and human expertise to perform threat hunting, monitoring, and response remotely. 
MDR monitors, detects, and responds to threats that are detected within your business IT environment. Typically part of MDR, endpoint detection and response (EDR) tools provide critical visibility into potential security issues with endpoints. This is particularly important today, as more organisations shift to hybrid work models and employees are working in different locations and different devices, making security controls vital. 
Using MDR solutions can drastically reduce the time to detect and therefore respond to data breaches, which averages at 200 days for Australian businesses. 
Vulnerability scanning and assessment
Threat actors use any number of ways to find potential weaknesses in the networks and systems of businesses. These vulnerabilities can be exploited and allow access to business assets, to damage or misuse. A key management solution for preventing this from occurring is vulnerability scanning and assessment. This is a tool that detects and classifies weaknesses in devices, networks and the IT environment, then provides security teams with the data needed to analyse and prioritise risks for potential remediation. Having a vulnerability scanning program in place gives a full picture of an organisation's weaknesses and assists in determining what should be patched based on priority, and safeguarding against immediate threats. 
Identity and access management
It is vital to put in access controls and limits on what your users can do with business data, to protect against ransomware, phishing, and other cyber-attacks.
Identity and access management (IAM) are policies, procedures and technologies used to control who has access to company resources, based on identities and devices, as well as privileges. IAM prevents data from falling into the wrong hands, utilising encryption technology and robust authentication methods that only allow users to access the resources and data necessary for their job, and locking down user accounts that have suspicious activity detected.
Managed security services for data protection and security
Data breaches are becoming more common and businesses of all sizes and industries are in the firing line. Protecting your company's data can be a challenge. INTELLIWORX offers a suite of managed security services, whether it is threat protection, vulnerability management, incident response, or detection and response, to ensure your business remains secure, no matter what the cyber threat landscape looks like. Contact INTELLIWORX security experts today.