PROFESSIONAL MANAGED IT SUPPORT SOLUTIONS
Unleash the Power of Your Technology Stack
Our managed IT services provide expert support to help you get the most out of your existing technology, while increasing reliability and scalability. Our team of certified professionals are available 24/7 to offer tailor-made support for your business.

Optimise your operations and maximise your success
Technology is advancing at a rapid pace, and you need to stay ahead of the curve. With our expertise, we can help you navigate through the complexities of modern business and provide you with the tools and resources to help your company grow. We understand the importance of staying competitive in today's market and are here to help you make sure that your business is up to date with the latest advancements in technology and that your IT environment and business are secure and efficient.
Our proactive approach to IT management means that you can rest easy knowing that your business is in good hands. We provide 24/7 monitoring, maintenance, and support to ensure that your operations are running smoothly, and your data is secure. With our help, you can be sure that your business will be successful for years to come.
The IT support you need - managed and worry-free
Our managed IT support services provide comprehensive assistance to handle all aspects of your IT needs. We conduct regular system monitoring to identify and resolve potential issues before they escalate, ensuring minimal downtime for your business. We also provide efficient problem-solving, tackling technical challenges swiftly and effectively. From software updates and security patches to hardware maintenance and network optimisation, we take care of all the essential tasks to keep your IT environment running at its best.
We provide dedicated expert support, ensuring that you have a team of skilled professionals available to assist you whenever you need it. Our proactive approach and responsive customer service guarantee that your IT infrastructure remains secure, reliable, and aligned with your business objectives.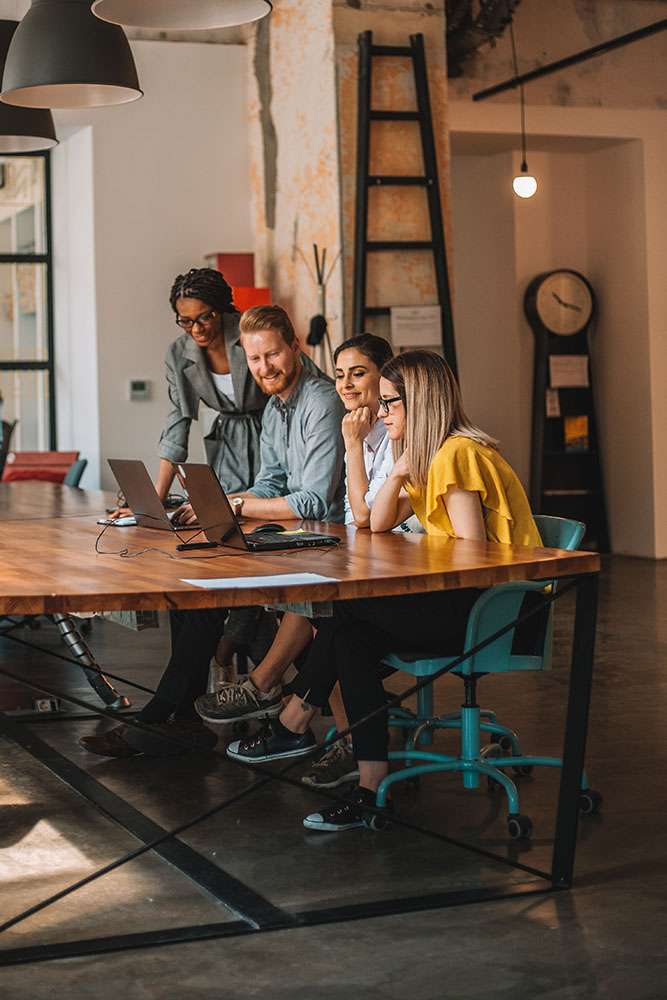 Efficient and Scalable Outsourced IT Support
Outsourcing your IT support to Intelliworx means you can tap into the expertise of external professionals who will handle your IT infrastructure with ease. We take the time to understand your business requirements, tailoring our services to fit your needs perfectly. Our experts are always ready to provide timely support, monitor your systems round the clock, and take proactive measures to prevent any potential issues. So, you get all the benefits of a dedicated IT team without the hassle and cost of maintaining an in-house department.
But that's not all – our IT support offers scalability and flexibility, so as your business grows, we can easily adapt and expand our services to keep up with your evolving needs. Whether it's infrastructure expansion, software upgrades, or boosting your cyber security, our outsourced IT support is designed to be adaptable. With our reliable and efficient IT support, you can make the most of your resources, increase productivity, and stay ahead of the competition.
Co-managed IT support is an ideal solution for businesses that want to retain some control over their IT operations while benefiting from external expertise. And we offer co-managed IT support services that empower you to collaborate with our skilled team.
Our co-managed approach ensures that your internal IT team and our professionals work together seamlessly. We understand that you may have specific goals and priorities for your IT infrastructure. By partnering with us, you gain access to our extensive industry experience and technical expertise, which can enhance your internal team's capabilities.
We assist you in developing a customised IT strategy aligned with your business objectives, and we analyse your current infrastructure, identify areas for improvement, and implement tailored solutions to optimise your IT performance. Our collaborative approach allows us to share knowledge, resources, and best practices, resulting in enhanced efficiency, reduced downtime, and improved productivity.
Strike the right balance between internal control and external expertise as our team becomes an extension of your organisation, providing the necessary support, guidance, and proactive monitoring to ensure your IT environment remains secure and optimised.
Empowers organisations to efficiently overcome IT challenges.
Offers prompt assistance and quick issue resolution, regardless of your geographical location.
Utilises advanced remote access tools to remotely diagnose and resolve technical issues.
Ensures minimal disruption to your business operations.
Addresses a wide range of IT issues remotely, from software glitches to hardware malfunctions.
Utilises secure and encrypted connections for real-time troubleshooting.
Saves valuable time and eliminates the need for on-site visits.
Our highly skilled technicians are dedicated to providing timely and efficient solutions for your IT needs.
Expert handling of hardware malfunctions, troubleshooting software glitches, and network connectivity issues.
Focuses on rapid response and quick issue resolution to minimise downtime and maximise productivity.
Technicians are available to provide on-site assistance, eliminating the need for equipment transport.
Prioritises efficient troubleshooting and problem-solving to get your systems back on track quickly.
Ensures that your systems are up and running smoothly.
Worry-free protection when you need it most
As a business owner, you have a lot to worry about. But with our managed IT services, you don't have to worry about your IT or network infrastructure. We provide proactive monitoring and maintenance of your entire IT environment so that you can focus on the more important things.
Our service level agreements (SLA) are designed to provide you with the peace of mind that your technology will continue to work flawlessly. So, whether you have one computer or thousands of servers, we can help you get the most out of your technology assets.
We offer flexible managed service packages that are tailored specifically to your unique needs and budget, and our team is committed to providing quality service at competitive prices.
Now is the time to take your technology infrastructure to the next level.
Extensive industry experience and technical expertise: With years of experience in the IT industry, we have developed a deep understanding of various technologies and best practices. Our team of skilled professionals is equipped to handle a wide range of IT challenges and provide efficient solutions.
Proactive approach to IT support and maintenance: We believe in preventing issues before they arise. Our proactive monitoring and maintenance ensure that potential problems are identified and resolved swiftly, minimising downtime and disruptions to your business operations.
Timely and reliable customer service: We prioritise customer satisfaction. Our dedicated support team is available round the clock to address your IT concerns promptly. We strive to provide timely responses and effective solutions to keep your business running smoothly.
Customised solutions tailored to your business needs: We understand that every business is different. That's why we take a personalised approach to IT support. We analyse your specific requirements, challenges, and goals to develop customised solutions that align with your business objectives.
Continuous monitoring and proactive threat mitigation: Cyber security is a top concern for businesses today, but with Intelliworx, you can rest assured that your IT systems are continuously monitored for potential threats. We implement robust security measures to protect your data and mitigate risks, keeping your business safe from cyberattacks.
Conquer your IT chaos with
holistic solutions
No matter the size of your enterprise, you can benefit from our holistic managed IT services. Our team of experts will assess your current IT infrastructure and develop a comprehensive plan to help you achieve your technology goals. We will provide end-to-end solutions that are designed to simplify and streamline your IT environment, so you can focus on what matters most — growing your business.
We understand that no two businesses are the same, which is why we offer customised solutions that are tailored to your unique needs. Our holistic approach helps ensure that all the pieces of the puzzle fit together seamlessly and create an efficient system for optimal performance.
With Intelliworx managing your IT, you can conquer any IT chaos and pave the way for success.