Work faster. Work Smarter. Work Microsoft.
Create a modern and collaborative digital workplace environment, empowering your employees to work more efficiently and effectively.

Discover the Power of Microsoft Modern Workplace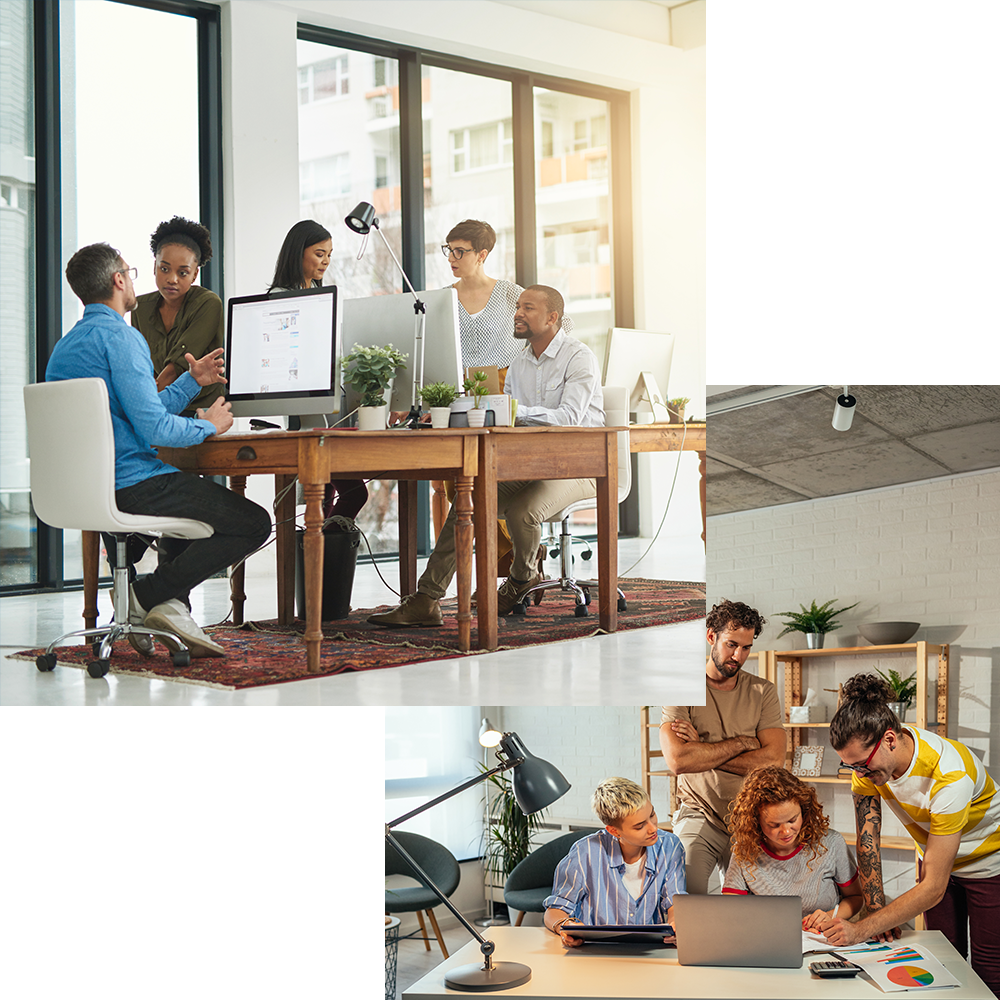 Boost your team's productivity and collaboration
Our comprehensive suite of solutions leverages the power of Microsoft's cutting-edge tools to transform your workplace into a hub of efficiency and innovation. By integrating familiar applications like Microsoft Office 365, Teams, and SharePoint, we enable your employees to work together seamlessly, regardless of their physical location. Say goodbye to siloed work and hello to enhanced productivity, as our services empower your team to collaborate, share files, and co-author documents in real time.
Modern workplaces demand modern solutions, and Intelliworx brings you the Microsoft Modern Workplace, designed to unlock the full potential of your organisation. With our comprehensive suite of solutions, you can enhance productivity, streamline communication, fortify security, and enjoy seamless scalability. Leave outdated technology behind and embrace the power of modern collaboration.
Experience streamlined communication and enhanced connectivity
Our solutions enable your organisation to break down communication barriers and facilitate efficient information flow. With Microsoft Teams, your employees can effortlessly connect through chat, audio, and video calls, promoting a dynamic and engaging virtual workspace. Integration with Outlook ensures that everyone stays informed and up to date on important discussions and project updates. Whether your team is in the office or spread across multiple locations, our services ensure seamless communication that fosters teamwork and drives results.
Collaboration is the key to success in today's fast-paced business environment. Intelliworx's Microsoft Modern Workplace services make collaboration a breeze. Empower your employees to communicate, share ideas, and work together seamlessly, regardless of their physical location. With intuitive tools from Microsoft, your team can collaborate in real time, breaking down silos and driving innovation with a connected and engaged workforce that delivers exceptional results.
Ensure the utmost security and protect your valuable data
We understand how critical it is to safeguard your organisation's information in today's digital landscape. Our comprehensive security measures, defend against cyber threats and ensure compliance with industry regulations.
With advanced threat protection, data encryption, and multi-factor authentication, your business is shielded from unauthorised access and potential data breaches. Rest easy knowing that your confidential information remains secure, allowing you to focus on what matters most—your core business objectives.
Scale your business effortlessly and adapt to changing needs
Our solutions are designed to grow alongside your organisation, providing the flexibility required to accommodate expanding teams, new projects, and evolving requirements. Microsoft's cloud-based infrastructure allows for easy scalability without the need for costly hardware upgrades or extensive IT support.
Whether you're adding new employees, opening new branches, or expanding into new markets, our services ensure that your workplace technology keeps pace with your ambitions.
Simplify IT management and reduce costs
We take the complexity out of managing your IT infrastructure, allowing you to focus on strategic initiatives that drive business growth. Our team of experts handles everything from implementation and configuration to ongoing maintenance and support, ensuring a seamless and hassle-free experience. By leveraging the cloud and Microsoft's advanced management tools, we minimise downtime, optimise system performance, and lower IT costs, freeing up valuable resources that can be injected into other areas of your business.
With our managed IT services, you gain a trusted partner dedicated to optimising your technology environment, maximising productivity, and mitigating risks. Whether it's network infrastructure, cybersecurity, or data backup, we deliver reliable and cost-effective solutions that support your business objectives and drive success.
Experience the difference that exceptional technology support can make with Intelliworx.