The world is changing constantly. New tools and services are being launched every day to help businesses streamline processes, share information securely and collaborate more efficiently. As a result, business leaders are finding it imperative to bring together their teams using the latest software. To remain competitive, an organisation must invest in the right technology to enable enhanced innovation and responsiveness to changing market demands.
Google Workspace and Microsoft 365 are great tools for streamlining internal communications and collaboration, while also enhancing organisational efficiency. However, although they both appear to be identical, there are a few key differences. Knowing the differences among these software types and how they will affect your firm's long-term success is critical for choosing the right one for your business.
What is Microsoft 365?
Microsoft 365 (or M365) is a cloud-based suite of productivity and collaboration tools that aims to be the go-to solution for employees and businesses looking to streamline their workflow, boost productivity, and enhance collaboration. The suite offers users the ability to easily create, collaborate and share content, while seamlessly accessing team information.
M365's cloud-based architecture enables users to access applications and data from anywhere and at any time using any device. Users are able to leverage this feature to co-author documents and access business-related information at times that are most convenient to them. This allows for a higher level of flexibility and efficiency.
The service also offers advanced security features, including the ability to easily set up secure virtual meeting rooms. The suite protects documents and files by using advanced cybersecurity features such as access control and machine learning programs to monitor the network.
M365 can help your company save time and money by upgrading necessary procedures and supporting employees as they work.
What is Google Workspace?
Google Workspace is a productivity suite that works on both iOS and Android devices. The company rolled out a new look for the app earlier this year, which offers a completely different experience. For example, Google now has the ability to create virtual spaces for team collaboration, for holding presentations or hosting meetings. Google Workspace also lets you quickly create a variety of files, from presentations to spreadsheets. Files are accessible from other devices and can be shared with colleagues, even if they don't have Google's apps installed on their devices. Businesses can also make use of Google's suite of productivity tools, like Google Calendar and Google Keep. The calendar helps to easily create meetings and schedule team meetings, while Keep helps to store documents in a secure manner.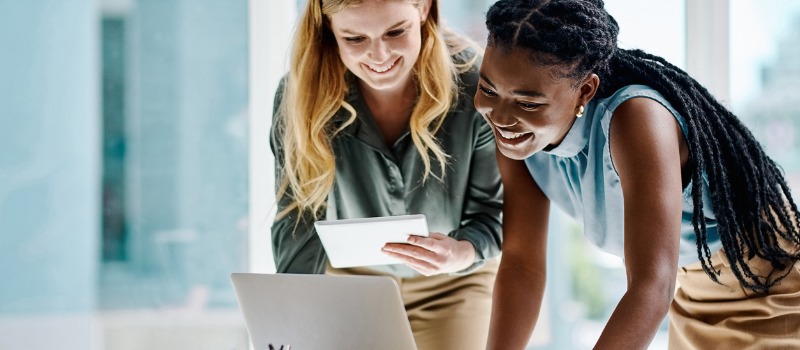 Google Workspace vs Microsoft 365 for business
M365 and Workplace provide the software your organisation needs to be competitive and grow, but one may be more beneficial for your business than the other.
M365 and Workspace are different in the following ways:
The number of plans
M365 and Google Workspace provide you with a variety of affordable subscription packages, however, the range of plans differs. There are only four Google Workspace plans to choose from. While this is not necessarily a cause for concern, businesses are constantly evolving, and Microsoft gives you plenty of options to work with its productivity suite that will never put your business at a disadvantage:
Microsoft 365 Business Basic

Microsoft 365 Apps for Business

Microsoft 365 Business Standard

Microsoft 365 Business Premium

Microsoft 365 E3

Microsoft 365 E5

Microsoft 365 F3
Customers may select individual productivity tools to meet their business needs. This is a significant advantage for your organisation because you will always know that your productivity tools are current and relevant.
Cybersecurity programs and policies
M365 and Workspace use robust security solutions to protect their users' information. However, Microsoft's multi-factor authentication is superior to Google Workspace's two-factor authentication in this regard. Because Google Workspace integrates with a large number of third-party apps, this may open up users to risk if they grant permission to use these apps.
Using innovative cyber security tools and practices, Microsoft 365 protects an organisation's IT infrastructure. Multi-factor authentication (MFA), identity management, and monitoring your network for suspicious activity are all part of Microsoft 365's innovative cybersecurity features.
Microsoft 365 for enhanced business performance
The issue of whether Google Workspace or Microsoft 365 is better for businesses is a distraction from what matters – investing in productivity tools that enhance your staff's performance and streamline organisational processes.
M365 provides you with all of Google's advantages and more, wrapped up in a dynamic bundle that exclusively utilises the latest business technology innovations.
The Microsoft 365 consultants at INTELLIWORX can help your business switch from Google Workspace to Microsoft 365, or integrate Microsoft into your business operations for a more profitable future.