Why your business should migrate to Microsoft 365
Microsoft 365 is the future of business. It's an innovative platform that provides customers with a single platform to manage all their IT needs, from security to storage to communication.
Microsoft 365 is perfect for businesses that want to keep their data safe and secure, and who want to reduce their IT costs.
What is Microsoft 365?
Microsoft 365 is a cloud-based productivity suite that provides users with a range of tools to help them get things done. It offers an array of apps for business and personal use, including Word, Excel, Microsoft Teams, Microsoft Azure, and more.
The services offered include email, calendars, meeting scheduling, video conferencing, Microsoft collaboration suites, data storage, and much more.
Business benefits of using Microsoft 365
Increased security: your data is always safe and secure with Microsoft's enhanced security features. Your information is stored on a secure server, so you can be sure that your information is never accessed by unauthorised individuals.
Increased performance: your business will experience increased performance as you save time and money on operations. You will be able to process more transactions and access your data faster than ever before.
Increased efficiency: experience increased efficiency in all your tasks by using the latest tools and technologies. This will help you save time and money on operations, and streamline your employees' daily tasks.
Work anywhere, from any device
Microsoft 365 offers a truly global work experience. You can easily access your data on any device, whether you are at home or in the office. It was developed with remote working in mind, and its cloud-based apps securely store your data and allow you to access projects and information from any location.
With these changes, Microsoft has also made it easier for employees to work together and collaborate on projects without the need for constant face-to-face meetings.
Microsoft 365 is ideal for companies who have employees working remotely as well as those who want to provide their employees with the best tools to stay productive at all times.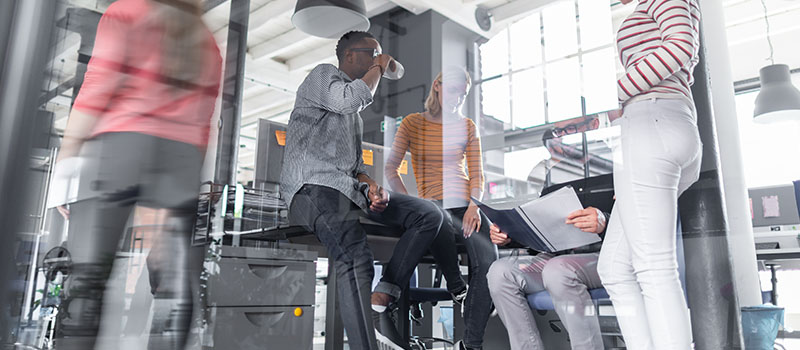 Reduced IT costs
Microsoft 365 is designed to be as easy to use as possible. This means that you can manage your IT needs more efficiently, and keep your costs down. For example, with Microsoft 365, you can easily manage your security breaches and protect your data. You can also keep track of who has access to your data and why, making it easier for you to determine where the most important data is located and how to protect it.
You can also use Microsoft 365 to reduce your storage costs. With Microsoft 365, you can create custom applications that are installed on top of the cloud-based operating system. This allows you to store all of your customer data in the cloud and save on storage costs.
Built-in data and security compliance
One of the most important benefits of migrating to Microsoft 365 is that you have built-in data and security compliance. With Microsoft 365, your business will be able to keep all of its data in one place and protect it from unauthorised access.
Microsoft 365 includes security features like Azure Active Directory, Office 365 Advanced Threat Protection, and Microsoft Cloud App Security, which allow you to manage the security of your business data.
The security tool Azure Active Directory (AAD) gives you easy control access to your business' information. With this, you can apply identity governance and management policies across all of the tools in Microsoft 365. AAD can also be used to manage user identities, the applications they use, and the devices they access.
Communication and collaboration tools
Microsoft 365 offers a wide range of powerful communication and collaboration tools. You can use these tools to share information, plan meetings, manage tasks and schedules, and much more.
With Microsoft 365, you can easily create groups, add people to groups, and collaborate on projects. The suite provides a rich user interface that gives you simple control over your business' communication channels.
The suite includes Microsoft Teams, which has text, voice, and video chat features, as well as screen sharing capabilities for meetings and presentations. Teams can be used to share files, plan meetings, and manage tasks. Additionally, Microsoft Teams offers a shared document workspace that allows team members to work together on projects in real time, regardless of their location.
Discover more with the Microsoft experts
Microsoft 365 is the perfect platform for businesses of all sizes. It provides a seamless platform for data and communication, as well as security and compliance. However, migrating all your business data and applications can be a difficult and lengthy process.
Microsoft Partner INTELLIWORX can help you migrate to Microsoft 365 and implement the suite of tools and features that your business needs to increase customer satisfaction, enhance security and compliance, and streamline your daily operations.