In today's rapid digital transformation of the workplace and business, one thing needs to be counted on more than ever before – the ability to collaborate and communicate effectively and reliably. 
Communication apps such as Microsoft Teams and WhatsApp have allowed people to stay connected but they haven't replaced email as the primary source of communication for businesses. Microsoft Outlook is the premier email solution for businesses looking to have access to the same information and communicate efficiently within and without the organisation. 
What is MS Outlook?
Microsoft Outlook is primarily known as an email management application, but it is so much more. With Microsoft Outlook, you can effectively manage your business email accounts, easily switching between accounts to use other business and productivity applications. 
Microsoft Outlook features
The reason why MS Outlook is so popular among businesses is because of its versatility. Employees and co-workers can benefit from its features and functions to enhance their workflow and boost their productivity. These features include:
Sending emails: You can use Outlook to send, receive, forward, and reply to emails. You can delay the delivery of messages that need to be sent at a specific time, and the Quick Parts feature allows users to copy text from an email and insert it into other messages. 
Email attachments: You can save attachments as favourites in Outlook so that you can easily access them later. When you mention an attachment in the body of your email but forget to attach a file before sending it, Outlook will remind you to include the attachment. With Office integration, you can attach documents directly from Microsoft OneDrive. 
Alerts function: You can set up notifications that will alert you when an email meeting seet requirements arrives. This alert will appear over all other applications you are using, so you do not miss significant or important messages. 
Seamless organisation: The Cleanup Conversation tool Cleanup Conversation searches for redundant messages in folders, subfolders, or entire folders and deletes (by default) or moves them to another folder. You can use Outlook to categorise your emails by project or by day to prevent your mailbox from being overwhelmed with multiple copies of the same message. 
Calendar: Using the Outlook calendar to keep track of appointments, meetings, and other events is simple. You can use the calendar in the same way as a to-do list, to keep track of all your future commitments (both personal and business), share and coordinate calendars with others, and track any time spent on tasks or projects. 
Schedule meetings: Using Outlook, you can set up a recurring meeting by entering the same details every week or month. You can also send an email to someone to set up a meeting at a specific time and location, with links to booking information. 
Contacts: You can use the address book to keep track of all your clients' contact information. With this function, you can store the name and contact information of your contacts, making it easy to find them. By using @ and another person's name, you'll add someone's email address to a mailing list, highlight the mention of the individual, and notify them. 
Assign tasks: You can use this function to create, manage, and organise tasks on the calendar. You can see all of the tasks you assigned to other people, as well as the deadlines for those tasks. This gives you a chance to keep track of multiple tasks, people, and deadlines. 
Reminders: Outlook enables you to set reminders, email notifications, or recurring tasks. When a reminder has expired, you will be notified via email that it is time to get busy. This way, you will never forget an important task. 
Accessibility: Using keyboard shortcuts, you can access all of Outlook's features and functions, thus making it easier to be productive.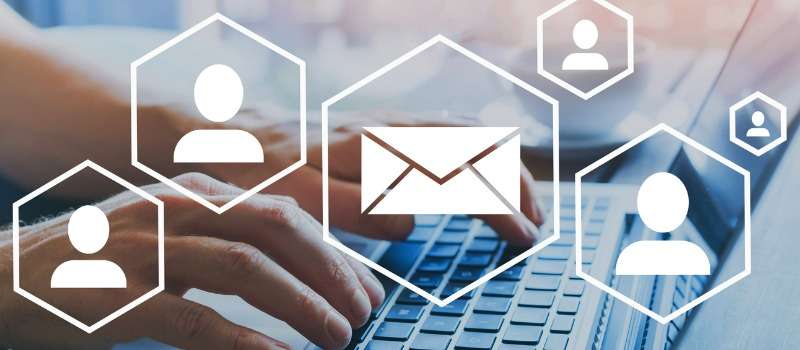 Integrate Outlook with Microsoft 365
Microsoft 365 is one of the world's most popular productivity suites, for good reason. Businesses that use M365 have access to all the tools that power efficient collaboration and communication, regardless of where employees are located. In today's world of hybrid workplaces and remote offices, this is a vital component of ensuring your organisation can thrive and rise above the competition. Microsoft 365 is scalable and grows with your company, keeping your technology to stay up to date and evolving with your business.
An added benefit of Microsoft 365 is you can integrate Outlook with other business applications like Microsoft Word, Excel, PowerPoint, SharePoint, and more. With this integration, you can sync your Outlook calendar, emails, and contacts with your MS365 account, enabling a seamless sharing experience with other colleagues. 
OneDrive allows business files and documents to be stored in the cloud, so they are accessible anywhere and at any time. This is especially beneficial to those businesses that have satellite offices or employees working remotely, or even when you don't have access to your work device. 
Microsoft Teams is one of the main communication tools used by businesses today, so having the ability to integrate with Outlook is a big advantage. This allows you to optimise Team's superior communication capabilities while also maintaining schedules, contacts, and emails via Outlook. 
What are the main benefits of using MS Outlook for your business?
MS Outlook can make any organisation more effective by allowing them to communicate and collaborate effectively, keep on top of meetings and tasks, and ensure projects are completed in a timely manner. Businesses rely on efficiency and MS Outlook makes all the difference, in these ways:
Outlook can be configured to block external content, such as web bugs or downloaded images from unknown sites or contacts, as well as junk mail filtering, to ensure security best practices are enabled. 

Using the search feature, you can locate any email, client, or reminder quickly. 

You can install Outlook as an app on Android devices, Mac computers, Linux machines, and other devices

An independent application, such as Skype or Teams, can be linked to assist with tasks such as scheduling appointments or reminders. 
Streamline your business with MS Outlook
INTELLIWORX's Microsoft consultants can help you integrate Outlook into your company infrastructure, ensure employees can benefit from it and maintain your Microsoft environment for enhanced performance and data security. 
With its straightforward design and powerful features, Microsoft Outlook is the ideal solution to maximise productivity and keep your business on track, no matter where you are. Contact INTELLIWORX today to learn more.