Why your enterprise needs Microsoft 365
The way we work today has changed dramatically, especially over the last few years. In today's rapid-paced business world, it is now about optimising workplace efficiency, productivity and connectivity. 
The importance of efficiency in business cannot be understated. When businesses and employees can create, collaborate and communicate seamlessly, it makes any organisation more effective and competitive in their sector. Access to productivity tools enables people to do their jobs easily and from anywhere, whether on mobile devices or a central working hub, making organisations agile and able to successfully grow their business. 
Microsoft 365 provides a productivity cloud platform that puts all the tools you need in one place. This means an affordable price tag for enterprise-level capabilities that improves your existing processes. As a result, it will help you future proof your business while improving productivity. 
Microsoft 365 overview
Most businesses are already familiar with Office 365, the cloud-based suite of productivity apps including Outlook, Word, Excel, PowerPoint, and more. In 2017, Microsoft introduced Microsoft 365, which is a unified bundle of existing products including Office 365, as well as other services including Windows 10 Enterprise, Enterprise Mobility + Security (EMS), etc. 
There are multiple plans to choose from depending on your business needs, and the services included in Microsoft 365 are available as separate licences. How Microsoft 365 benefits your enterprise is mainly in the agility and flexibility of the unified platform, that boosts productivity, collaboration, and security as and when your business needs it. 
Boosting productivity 
Microsoft 365 is the perfect productivity suite to support remote work and a hybrid workforce, which is becoming the norm for organisations today. The cloud-based platform is accessible from any device with an internet connection, including Android and iOS operating systems, allowing employees to access their data from any location at any time. 
Dedicated task management and collaboration tools such as Microsoft Teams enable employees to stay connected and collaborate on projects in real-time. Streamlined communication, real-time collaboration, and a centralised location for team documentation will help your team to stay on top of projects and deliver results faster. Managers and employees can schedule meetings and prioritise time-sensitive tasks, to ensure deadlines are not missed.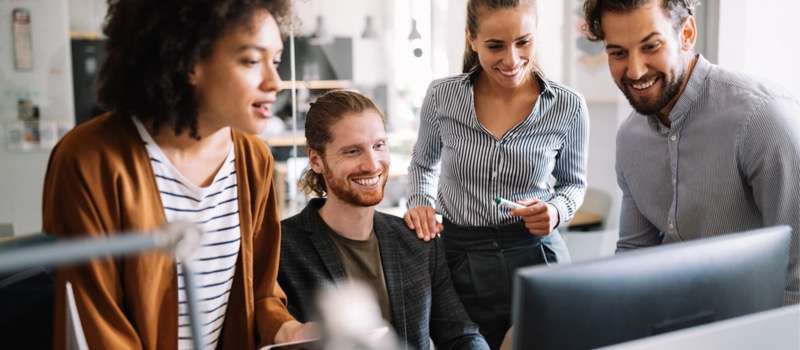 Agile and scalable 
Microsoft 365 has the ability to scale as your business grows. With this, there is no need for any capital outlay on new hardware or servers. It only requires adding more users and services as needed with Microsoft 365's subscription model that can be easily adjusted according to each department's needs. 
The flexibility of Microsoft 365 lets you mix and match different business applications in order to create a solution specifically tailored for your company's needs at an affordable monthly rate, just purchasing additional licences when necessary through the easy-to-use software interface. 
Security and compliance
Security and compliance are essential considerations with any software or cloud technology being used to store or access data. Microsoft 365 has built in security measures, such as encryption of data at rest and in transit, as well as the enforcement of multi-factor authentication to access data and documents. 
Microsoft 365 security centre helps you to manage and monitor your company's security. Security admins can track which devices are used, manage security for remote teams, get alerts when something suspicious is detected, and gain an overview of your organisation's current security posture. 
Your data is also stored in more than one data centre, so it is highly available in the case of data loss or disaster. Lost data is recoverable for a certain number of days in every subscription, which varies based on the service. 
Cost effective digital transformation
Microsoft 365 works on a per-user, monthly subscription model that lets businesses pay for the use of it month by month. This means organisations don't have to make one costly purchase up front but just need to cover a predictable monthly subscription fee. 
The 'pay per use' principle upheld by Microsoft 365 also means that if one department or team won't need to use an application, such as Power BI, then you have the option to create a package that doesn't include Power BI. You only pay for the applications and tools needed. You can also be reassured your business is always using the latest version of applications, with automatic upgrades happening behind the scenes that don't cost extra or interrupt business operations. 
Microsoft 365 empowers you to take your enterprise further
Microsoft 365 is not just a collection of software, but an experience tailored to meet the diverse needs of organisations. It's so much more than the highlighted features above, and it allows you to put your technology to work for you. To leverage what Microsoft 365 can do for your enterprise, speak to the Microsoft certified experts at INTELLIWORX today.