It is mind-boggling to realise how much information a single organisation generates and exchanges with colleagues, employees, and third parties such as clients, suppliers, and independent contractors. Research shows that the average business shares documents with around 825 external domains, including business partners and personal email addresses.
Across your entire organisation, file sharing is a critical, everyday practice that allows your employees to be productive, your customers to be connected, and your business to grow. Due to the widespread adoption of collaboration tools and instant messaging, as well as cloud-based platforms, your company data can be shared easily. 
While the convenience of file-sharing is a boon for business processes, there is always a danger that data could be lost, shared with the wrong person, or even stolen. Certain industries are heavily regulated with regards to keeping specific information secure. File sharing is fast becoming a serious concern today, with increased security incidents and more organisations adopting hybrid and remote work models. 
What are the risks of file sharing?
Sharing files and data is critical for your business day to day operations, but there are risks:
Security of sensitive data: Human error is one of the leading causes linked to data breaches. Without proper file transfer protocols and care, employees can inadvertently or intentionally let sensitive information be exposed. Once unauthorised access has been gained, your file sharing service is an open book and it can be hard to tell what has been accessed and how far the information has been spread.
Security posture: Using file-sharing software may expose you to a variety of cyberattacks, including distributed denial-of-service attacks, and man-in-the-middle attacks if employees bypass firewalls to upload or download files. An employee may unintentionally download and install malware, such as viruses or malware if they open a risky file that was uploaded to the file-sharing service. This may subsequently compromise the entire network. 
Best practices for file sharing
An organisation's success depends on being able to share files and documents with the appropriate people in a way that prevents oversharing. This includes ensuring that sensitive or confidential data is shared safely with only those who should have it.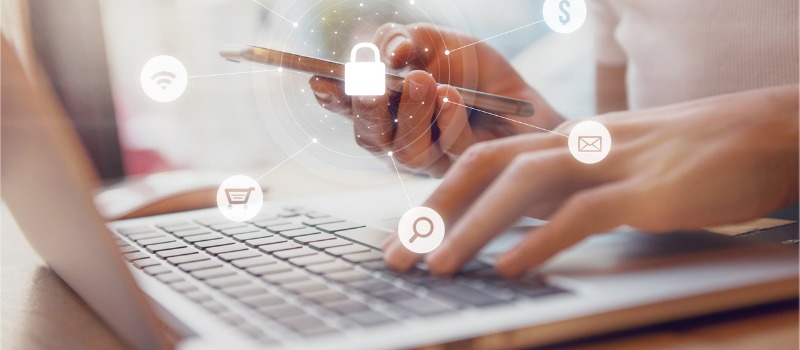 Train your employees
One of the most basic yet effective ways to reduce the risk of file sharing going wrong is to provide regular security awareness training company-wide. Employees who are security aware are more likely to share files securely and know the risks that come with mishandling sensitive information and the importance of data protection. 
A security-first culture at your business will ensure all employees understand the type of files that can be shared in and outside the company, and how to be secure online. Secure file sharing will go a long way to preventing data leaks, particularly those related to the cloud. Today's modern workplace utilises collaboration and communication tools that enable seamless productivity – proper training about sharing options with these tools is important to keep data secure. 
Implement file sharing controls
Business file sharing is easy with collaboration applications such as Microsoft Teams, which allow employees to share files with a click. These applications are primarily intended for collaboration and efficiency, but without proper controls in place, they may become a security concern. For example, a data breach or malware assault might result in financial and reputational damage to a company. Teams has the ability for admin to set controls that allow each project to have its specific security controls, and external sharing can be configured with appropriate settings to prevent files from being shared outside the company unless allowed. 
Security audits 
Regular security audits of file-sharing activity can allow security teams to detect any security gaps that may lead to data breaches. In addition to monitoring user behaviour to ensure compliance with internal policies and data privacy regulations, security audits may detect any suspicious activities after a security event and provide time to take preventive measures such as revoking permissions or encrypting files. 
Access controls
Employees do not need to have access to every business file – rather access can be restricted to certain files based on a group, role, or individual level. Use the principle of least privilege to restrict access to files, which only gives users access to those files that are relevant to their job. Files that are password-protected and multi-factor authentication ensure that sensitive data is only accessible to authorised users. Periodically check and revise user access privileges as well.
End-to-end encryption
The best practice when sharing files with third parties is to encrypt them so that unauthorised individuals cannot read them. End-to-end encryption is a secure method of data transfer that prevents third parties from accessing files and data while they are transferred from one system or device to another. Only those users with the encryption key can access files and this access is logged.
Limit physical file sharing
Physical storage devices such as external hard drives and USBs should be limited or prohibited entirely. Cloud computing has made these devices redundant, however, they can still be in use and are an easy source of data leaks. Many organisations today do not allow employees with company-managed devices to transfer files to external storage devices due to the risk of security data leaks. 
Invest in a file-sharing solution
There are many readily available file-sharing tools on the market today, but the question is – which one will give your business the best security capabilities? A robust solution that can easily integrate with your business will ensure every best practice discussed above can be successful in protecting your data. All files can be stored and shared efficiently and importantly safeguarded with a robust file sharing solution. For businesses already a part of the Microsoft ecosystem and have Microsoft 365, a cloud-based solution such as Microsoft OneDrive for Business ticks all those boxes and even provides additional advantages in integration and scalability. For enterprises utilising Microsoft Azure, the Azure Information Protection solution may be the answer. 
To improve your business information security, contact the security experts at INTELLIWORX today and leverage their extensive knowledge to ensure your business information is secure.